MiSAC Publicity leaflet (PDF)
NEW MiSAC has produced a publicity flyer to promote all of its activities in schools, both in the UK and internationally. Click the image below to download the publicity leaflet.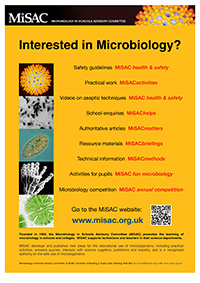 MiSAC

briefings

provide resource material to further the understanding of the principles of microbiology and its applications.
1. Food from fungi (PDF)
2. DNA is the genetic material (PDF)
3. Guide to European biotechnology units (PDF). The complete set of 20 units in several European languages is available at www.archiv.ipn.uni-kiel.de/eibe
4. Fungi at work series
The mycologist, David Moore, has written four MiSACbriefings which explore the activities of fungi and their importance in nature and explains how these microbes are of considerable value to humans.
Click here to view the Fungi at work publications.
5. As the World Warms - Diseases will Spread (PDF)
NEW This briefing relates to the topic of the 2024 annual competition which will be on Neglected Tropical Diseases and will be essential reading for students entering the competition.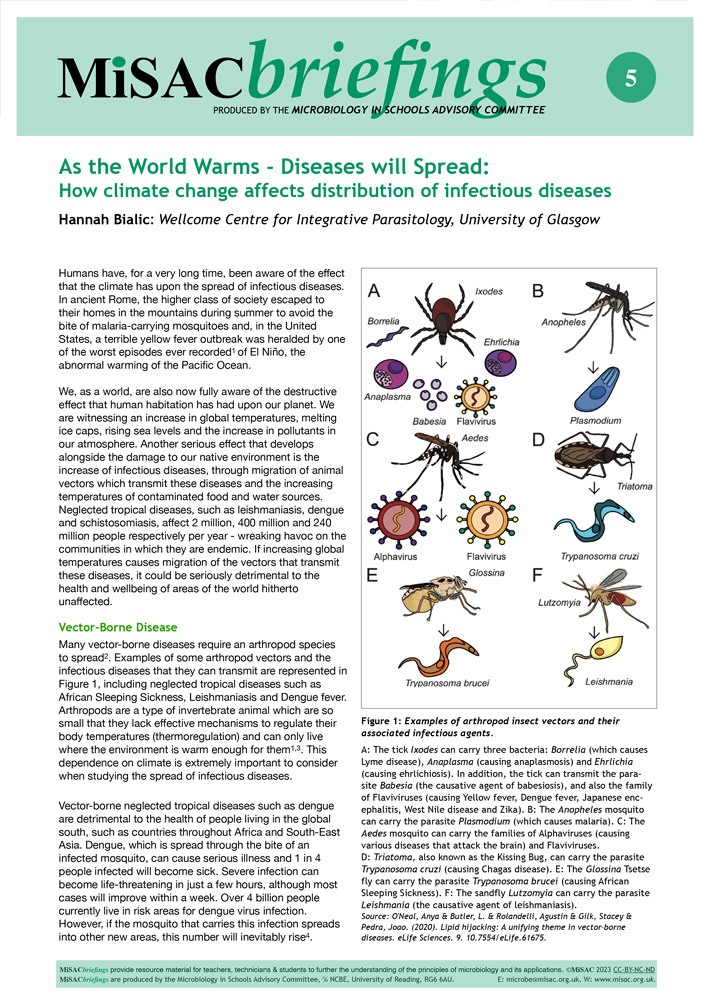 MiSACfun microbiology
This is a collection of four activities for children to enjoy - enabling them to build a microbe mobile, play a microbe snakes & ladders game, complete a microbe word search and to answer the question: Does size matter? In the microbial world.
Click here to explore the MiSACfun microbiology materials.
MiSACmatters Articles
2019 marked the 50th year since the foundation of the Microbiology in Schools Advisory Committee. To celebrate this, MiSAC commissioned a collection of over 30 illustrated essays aimed at secondary school teachers and students, on a wide range of microbiology topics. A team of expert scientists was assembled from those active in the microbiology world in the UK and internationally, who enthusiastically supported this endeavour. See also A short history of MiSAC page.
Click here to view the articles.
MiSAChelps give examples of responses to enquiries on various aspects of microbiology, particularly those related to practical work. Examples include Microscopy and staining, Media and culture methods, Investigations and Safe practice.
MiSAChelps (PDF)
MiSACactivities for practical work
See Practical activities web page.
MiSACmethods provide technical information on selected topics.
1. Looking at Microbes (NEW PDF)